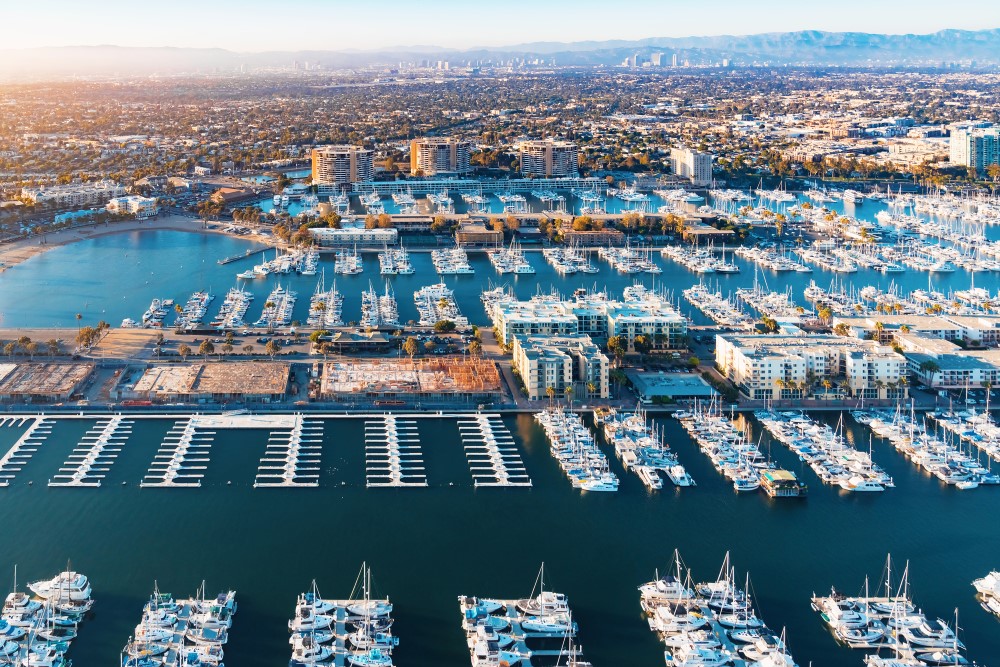 MARINA DEL REY: RECREATION AND HARBOR LIVING
Marina del Rey is much more than a punchline from Saturday Night Live's hit skit "The Californians." And it's not as far from L.A. action as that skit would imply ("That's practically Marina del Rey!")
Few people know that for five decades, Marina del Rey (Harbor of the King) was the world's largest manmade harbor – authorized by the signature of JFK and transformed by the Army Corps of Engineers. In 2003, the port was knocked off its pedestal by the manmade port of Dubai in the United Arab Emirates. But it still hosts the mega yachts, fishing boats and other pleasure craft that bunk there for safe haven.
The Marina harbor – originally the Del Rey Lagoon — wasn't always so calm. Ballona was the original name given to the land around the creek, a major outlet for runoff since indigenous peoples lived there. Rich in silt, tar and wildlife, the wetlands had been an excellent site for indigenous peoples, who used the tule sea grass to build their huts.
In 1839, the Mexican government granted two families 14,000 acres for ranch land. Storms since the 1800s had been known to re-route the creek bed and wash away adobe homes as well as ranch land.
Because of the tendency for flooding, a large chunk of the project involved building port's sea walls out of rock quarried on Catalina Island. So, half of the $4 million federal grant was used to build the breakwater. To learn more about the history of Marina Del Rey, click here.
By 1905, neighboring Venice-by-the-Sea, the brainchild of Abbot Kinney, became the Coney Island of the West Coast. Today, L.A.'s famous beach towns including Venice and Marina del Rey are linked by a 22-mile bike path that winds from Santa Monica all the way down to Manhattan Beach.
Today, mega yachts co-exist with party boats and fishing trawlers. Brown pelicans stand by, competing with seals for their next meal. And the residents of harborside homes face the water for a guaranteed beautiful sunset. Those homes, plus the high-rise condos that dot the Marina, require professional carpet cleaning, and so do mega-yachts!
Dave's Carpet works and serves the Marina Dey Area community and its surrounding areas, and our technicians work to remove pet stains, food spills, and even the occasional mildew that might collect in the upholstery of a seafaring craft. Professional upholstery cleaning and carpet cleaning is a must for homes on the water.
Plus, by calling a professional carpet and upholstery cleaner, those who enjoy the marina life can spend more time doing what they love.
Contact Dave's Carpet & Upholstery Cleaning Today!
We look forward to seeing you on the beautiful streets of Marian Del Rey in the near future! Give us a call for a quote today at (310) 230-3800. Or e-mail us for a quick response.